Discover more from Declan's Newsletter
From the three time Dragon Award finalist, SFF, Urban fantasy, thrillers, mysteries, and whatever else catches my fancy.
Review: The "Monsters and Cryptids" series by David Weatherly
A scholarly approach to stories about monster sightings in North America?
While tales of Bigfoot and his ilk are often spouted from the mouths of conspiracy theorists and tabloid junkies, they may not be entirely unfounded...
Note: Weatherly publishes through Amazon, so that's the only platform currently carrying his books.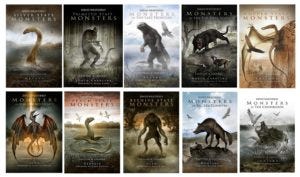 Weatherly is adding titles to the series on a regular basis
It's not often that you hear of a serious take on cryptid stories, but that's exactly what David Weatherly has set out to do with his Monsters series.
Chances are if someone told you a monster story, trying to pass it off as real, you'd roll your eyes and brush it off. Maybe you'd find a little bit of entertainment value in it. There's a very slim probability that you'd put any stock in it. These people are all quacks, right?
That was what I thought when I discovered these books by Weatherly. "Eh, these are probably a bit of interesting fluff. Nothing serious." And he even had a book on Nevada, my home state! So I picked it up and combed through the pages.
And I was instantly hooked.
Keep in mind, I'm a trucker. I've seen the lonely highways and backroads of the seventh-largest state in the nation. I've driven it all the way across in every direction. I've worked road closures on The Strip at 2AM and I've hauled silos past Walker Lake in the dark. The places that Weatherly referenced in SILVER STATE MONSTERS were all very real to me, and then he started to present local legends from every region.
"Mud babies" from the Pyramid Lake reservation. Our own Nessie-like creature in the depths of Tahoe. Sasquatch sightings in the northern mountains. And Weatherly brought the receipts.
The man read through magazines and newspapers going back decades, finding "eye witness accounts" of various cryptids, and applying a fair amount of scrutiny to each one. Did a small town struggle with monster hysteria one summer, only for it to be a coyote? He'd note it. Did a bunch of people who never met each other describe similar sightings of similar monsters in the forests above Winnemucca? He'd note that too.
If he could explain it, he would. If he couldn't...well, he'd leave it up to the reader. There was even a few pages of bibliography at the back so you could check his research if you wanted to.
I'd never read anything like it before in this vein. And the book became extra real to me in 2020, when I was sleeping in a big Kenworth in the middle of the desert, in a town you've never heard of, called Dunphy. After reading Weatherly's chapter on Nevada sasquatches, and how they liked to sneak up on unsuspecting campers and rock their vehicles in the dark, well...I was more than a little on edge.
Especially when I woke up to my semi-truck violently rocking on its suspension at 6 in the morning. No wind. No reason for it to be doing that. And not a chance in hell that I was going to look out the window or make a sound.
(I would learn a few hours later that a huge earthquake had hit Magna, UT, and despite me being 200 miles away, I was feeling the ripple effect of it.)
Yeah. Weatherly scratched an itch that I didn't know I had.
The rest of the series
It took me a while to get to the next book in the series, or rather, the next book that I wanted to read: Monsters at the Crossroads, which covers the state of Indiana. I finished it just last week and was thrilled by the Beast of Busco, the Oil Pit Squids, and Silas Shimmerhorn: Confederate Werewolf.
To date Weatherly has at least ten of these books out, with no signs of stopping. And why should he? The two I've read were intriguing. I've never read anything so realistic about these legends. I'm excited to dig into his Arizona book, to see what the southern deserts are hiding, or his Utah book, to find out what's really going on at the enigmatic Adamantium Skinwalker Ranch.
The politics
Bro. None at all. Delightfully.
Content warning
Other than the general horror elements that accompany some of the stories, there's nothing objectionable in these books.
Who is it for?
Do you like the "Lore" podcast? There's a strong "Lore" feel here. Or if you like to dance on the knife's edge of history and mythology, this is for you.
Why read it?
Weatherly has compiled pure fuel for the imagination, and with times and places for each story, these legends really come to life in a way general fiction never does.